In the name of our Lord Jesus Christ, we invite you to grow in faith, understanding, service, and community here at Bethesda Church. There are many opportunities to do so throughout each year. Of course, the primary way we grow alongside each other is to worship together weekly, and doing so gives us a common, solid foundation to build upon as we live out our lives. On this page, we have provided a short list of upcoming parish events and news items to help you understand the ways in which we live out our lives together. We encourage you to visit the full calendar and latest news feed regularly, so that you won't miss the opportunities that appeal to you.
The majority of parish events are open to anyone and everyone, but please be aware that certain activities (such as participation in some of the lay ministries) are for those who have made a commitment to the parish by first becoming a member of it. If you are interested in becoming a member of Bethesda Church, please see the information on the newcomers page, and then be in touch with us. We'd be delighted to talk with you.
One wonderful way to give back to the parish is through the generous offering of your time and talent. It is also a good way to grow in faith and understanding alongside other believers. Some of the primary ways to become involved in lay ministries are listed below, and if you are interested in any of them, please contact the church office at 518.584.5980.
On the other hand, if serving in these ways isn't appealing to you, please remember that your financial support will further the work of these volunteers, and is much appreciated! Please see the giving page to learn more.
Lay Ministries Related to Worship
Acolytes – Children and young adults are invited to participate in our acolyte program. During the school year, acolytes are needed for the 10am service every Sunday.
Singers – Our volunteer choir sings at the 10am Eucharist on most Sundays. If you or anyone you know has a musical interest, please speak to Kathleen or Fr. Wallace.
Lay Readers — Parishioners read appointed lessons as part of the 10am Sunday Eucharist.
Ushers – Welcoming and assisting parishioners and visitors before and during the worship service is what ushering is all about. For information on how to become an usher, please leave a message for Tom Moeller through our parish office.
Altar Guild – Serving at the invitation of the Rector, members of this guild assist the clergy by preparing the sanctuary for worship prior to Sunday and weekday services, weddings, funerals and other special services. The Altar Guild is also responsible for the care of the silver and brass, the altar vessels, the linens, the altar hangings and the vestments. Members serve on a rotating basis according to a flexible schedule.
Bell Ringers – Teams of bell-ringers manually ring changes before and after the Sunday 10am Eucharist. Requirements: ability to count to four.  If interested in learning more, contact the church office.
Other Lay Ministries
Lay Eucharistic Visitors – This group of parishioners assist the Rector in his pastoral care of the sick, shut-in, and bereaved of the parish. They do this by visiting, calling, and otherwise caring for those in need.
Prayer Shawl Ministry – Our group knits and crochets everything from shawls and lap blankets for our elderly and home-bound parishioners to baby blankets for baptisms. Meetings are generally held on the second Thursday of each month.
Coffee Hour Volunteers – Coffee Hour will return when appropriate given our COVID mitigation efforts. When it returns, volunteers will be needed to help set-up, serve, and clean-up.
Office Volunteers – Help is occasionally needed (and much appreciated!) with special mailings and other office management tasks.  Organized worker-bees are beloved.
Project Helpers – The life of a parish involves projects great and small that are temporary in nature but difficult to accomplish without volunteers. Please visit latest news regularly to stay informed about the need for volunteers on any special projects that arise.
Parishioners, newcomers, and visitors are not only very welcome at all of our worship services, but also at our parish events. We want to build up the Body of Christ through learning, growing, serving, having fun, and otherwise spending time with one another.
Formation and Education
For adults, throughout the year we offer Bible study as well as classes on a variety of topics, sometimes meeting on Sunday mornings and other times on weeknights. We always put a notice in latest news when a new class is planned, and then each session of the class is added to the calendar. So visit both pages regularly!
For children, our Sunday School is beginning to ramp up again after a hiatus during COVID. As the schedule becomes regularized, we will add it to the calendar. For now, please contact the parish office if you would like to enroll your children or talk to someone about the program.
Fellowship
During COVID, most plans for in-person gatherings were necessarily set aside. As we gather in person more regularly, more and more opportunities for fellowship will return to the calendar. These include coffee hour after the 10am Eucharist on Sundays, parish celebrations, annual retreats, group hikes on nearby trails, and other fun things. Please keep an eye on the calendar and latest news as we pray the worst of the pandemic is behind us.
Concerts and Recitals
Music is a great gift from God, and also an essential part of the Anglican heritage. If you love sacred music, we invite you to worship with us especially on Sunday mornings at 10am, but also to avail yourselves of concerts and organ recitals which are scheduled throughout the year. Visit latest news and the calendar regularly so that you won't miss the opportunities!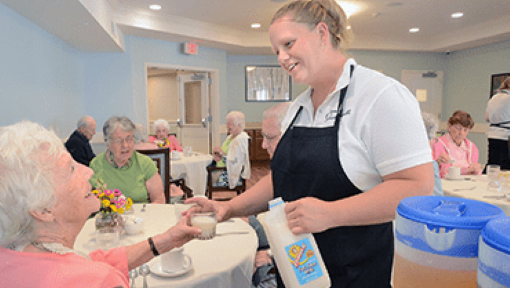 As you can see in the list above (Parish Lay Ministries), Bethesda has many opportunities for parishioners to give back to the parish and to care for the needs of those whom we worship alongside week in and week out. But we also have a commitment to serving those in the broader Saratoga Springs community.  Two important ways we serve and engage with our brothers and sisters outside our church doors are listed below. Keep an eye on latest news to see outreach opportunities as they arise throughout the year.
Home of the Good Shepherd
The Home of the Good Shepherd was established by members of Bethesda Episcopal Church in May 1870.    The Vestry appoints Bethesda parishioners to serve as volunteers on the Board of Directors for the Home of the Good Shepherd.
The Home of the Good Shepherd is dedicated to enhancing the quality of life of our residents and promoting independence and individuality.
Along with assisted living in our Home, we also offer nursing, home health aide and companion services through our home care agency.
We invite you to learn more about the Home of the Good Shepherd and our services by visiting their website, visiting a facility, or calling 518-584-3317.
Lifeworks Community Action
A basket in the vestibule awaits your contributions of hygiene products for  LifeWorks Community Action (formerly Economic Opportunity Council ).  Volunteers deliver these items monthly for the benefit of those in our city who are in need of them.  Your assistance is gratefully appreciated.