Bethesda Episcopal Church, incorporated as a church on October 4, 1830, has a long and fascinating history that intersects with the history of the national Episcopal Church and with the history of Saratoga Springs, New York. We've outlined some of the major events in the timeline below. Please see the church building page for additional information about the history of the parish.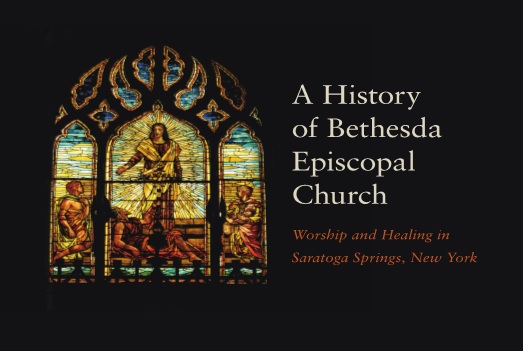 Order Your Copy of A History of Bethesda Episcopal Church: Worship and Healing in Saratoga Springs, New York, Jane Agee, Editor and Mary Sanders Shartle, Co-Editor
Bethesda Episcopal Church was formally established in 1830. This book, edited by Jane Agee and Mary Sanders Shartle, celebrates the significant spiritual presence of this church in many lives for nearly two hundred years.
Within its pages, you will find fascinating stories and photographs that document the life of Bethesda in the midst of wars, social upheavals, and celebrations. A diverse group of people, including Bethesda communicants and others in the community, authored the chapters.
This beautiful hard cover book, with a dust jacket, sewn binding and acid-free paper, includes 336 pages plus an 8-page color insert. It also includes many historical photos from the church archive as well as more recent photos.
The retail price is $64.20 (includes tax) per copy.  You can have a copy mailed to you or to a recipient (add $12), or you may pick up a copy (by pre-arrangement) at our parish offices. Contact us as needed.
To submit an order:
Integrated Timeline
Compiled by Jane Agee, The Reverend Paul Evans, and Mary Shartle, 2013
| | |
| --- | --- |
| 1787 | Episcopal Diocese of New York established |
| 1805 | First Episcopal church at Ballston Center was organized ("Ballston" often refers to Christ Church [1817] of Ballston Center which united with St. Paul's, Ballston Spa, as Christ Church according to DeMille, p. 33) |
| 1811 | John Henry Hobart became diocesan bishop of New York (his son would later become rector of Bethesda, 1845-46) |
| 1814 | First incorporation of a religious Society for the Propagation of the Gospel named Bethesda. This incorporation was not sustained and is not recorded in New York Diocese history. |
| 1826 | Saratoga Springs was incorporated as a village. |
| 1830 | Official incorporation of Bethesda Protestant Episcopal Church, October 4th; documented in New York Diocese history and in General Convention Proceedings. Death of Bishop Hobart. First building that housed Bethesda was given by Dr. John Clarke; it was originally an old spring house that was located on the northeast corner of Putnam and Congress Streets. The Reverend Edward Davis was recorded as rector in the incorporation; however, he and The Reverend Deodatus Babcock from Ballston Spa served as mission priests to the fledgling congregation. |
| 1832 | Saratoga and Schenectady Railroad opened. |
| 1834 | The Reverend Babcock reported 10 communicants for Bethesda in the Journal of the Proceedings of the General Convention of the Diocese of New York. |
| 1835 | Rensselaer and Saratoga Railroad opened. |
| 1841 | The Reverend William Walker who had previously served at Christ Church, Troy, New York, became the first full-time rector* of Bethesda. |
| 1841 | The vestry, in a controversial move, purchased from Rockwell Putnam a lot on Washington Street on which to build the present church at a cost of $3,590, an exorbitant sum at that time. |
| 1842 | Using plans adapted from those drawn up by Richard Upjohn, a renowned architect from New York City, Bethesda began erecting the present church on the Washington Street property. |
| 1843 | The Reverend Samuel Hanson Cox became rector of Bethesda. |
| 1844 | Church was completed, and first services were held in a largely unfurnished building. |
| 1845 | The Reverend John Henry Hobart, Jr. (son of Bishop Hobart) became rector of Bethesda and preached the first sermon in the new church. |
| 1846 | The Reverend Philip E. Milledoler, M.D., became rector of Bethesda. |
| 1848 | Trinity Church made a grant of $1,000 to Bethesda. |
| 1850 | The Reverend S. S. Wiley became rector of Bethesda. |
| 1853 | The Reverend John Steinfort Kidney became rector of Bethesda. First bell was given. |
| 1858 | The Reverend Robert C. Rogers became rector of Bethesda. |
| 1860 | The church was enlarged by moving out the side walls, and the stained glass windows were given. |
| 1861 | The Reverend Edmund Rowland became rector of Bethesda. Civil War begins. Rockwell Putnam and Saratoga Bank filed foreclosure suits against Bethesda for non-payment of the mortgage. The vestry negotiated a loan, including the legal costs of the foreclosure suits to satisfy the creditors. |
| 1863 | The Reverend Francis C. Wainwright became rector of Bethesda. |
| 1864 | First running of the Travers at Saratoga Race Course. |
| 1865 | The Reverend John Breckenridge Gibson became rector of Bethesda. |
| 1866 | Bethesda finally paid off its debt for the lot purchased from Rockwell Putnam, and the consecration of Bethesda was conducted by The Very Reverend Horatio Potter, Bishop of the Diocese of New York, was held on October 17th. Rectory at this time was on the corner of Broadway and Greenfield. |
| 1868 | Diocese of Albany formed, and the Right Reverend William Crosswell Doane became bishop. |
| 1869 | The Reverend Norman W. Camp became rector of Bethesda. Rectory at this time was located on Clinton Street and was valued at $10,000. Home of the Good Shepherd was begun at the behest of Mrs. Frances Placidia Gibson (nee Wood), wife of the Reverend John Gibson. |
| 1873 | The Reverend Joseph Carey, S.T.D., became rector of Bethesda. |
| 1887 | Tower was added to west front of the church. Elizabeth Haight Putnam, widow of Rockwell Putnam, donated funds for the tower, in memory of her husband and children, and her grandchildren gave four bells in memory of Rockwell Putnam, Elizabeth Peck Putnam, George Rockwell, and Edith Mary Georgiana. A service blessing the bells was conducted by The Right Reverend William Crosswell Doane, D.D., Bishop of Albany, on July 3. During this year, many gifts of note were made: chancel stained glass window and brass eagle lectern (Spencer Trask); marble altar (Katherine Y. Ehninger); brass altar rail (Mrs. Charles D. Slocum); central reredos (Mrs. William A. Sackett and her sister, Mrs. J. L. Perry); marble baptismal font (Hugh Willoughby); brass altar cross on the side altar (Madame Jumel). |
| 1890 | St. Faith's School was founded by Eleanor Shakelford, great-granddaughter of Rockwell Putnam and Beatrice Sands. |
| 1898 | Marble columns were added in church (dedicated to Gabriel Duval Clark, Sr., and Mrs. Harriet Perry). |
| 1913 | The Reverend Hubert P. LeFl. Grabau became rector of Bethesda. Leaves to serve in WWI in 1918. |
| 1917 | United States enters WWI. |
| 1918 | The Reverend Irving G. Rouillard became rector of Bethesda. Spanish Influenza epidemic spreads and Fr. Rouillard offers Parish House as a relief station for flu victims. |
| 1920 | The rectory on Washington Street, formerly the home of the Wiggins family, was purchased, largely due to funds provided by Joseph H. Clark, as a wedding gift for The Reverend Irving Rouillard and his new bride. |
| 1926 | Organ was donated by Joseph H. Clark. |
| 1927 | Division of Albany Diocese is advocated at General Convention of New York. |
| 1928 | The Reverend Rouillard was named Archdeacon of Troy. The Right Reverend Nelson resigned as Bishop of Albany; The Right Reverend Oldham succeeds him. |
| 1929 | Planning for first Centennial of Bethesda begins; Black Friday on Wall Street. |
| 1930 | First Centennial Celebration takes place over four days in October (commemorated in a book by Fr. Rouillard). |
| 1933 | The Reverend Rouillard wrote a stirring letter in the Saratogian prescribing action to combat unemployment during the Great Depression. |
| 1941 | Pearl Harbor and the US entry into WWII; Fr. Rouillard's three sons would serve. |
| 1945 | WWII ends in Europe and Pacific. |
| 1950 | The Reverend Malcolm W. Eckel became rector of Bethesda. |
| 1953 | The Reverend Benjamin W. Holmes became rector of Bethesda. |
| 1967 | Cassavant organ was installed. Fr. Holmes celebrated 137th anniversary of Bethesda. |
| 1968 | The Reverend Thomas T. Parke became rector of Bethesda. |
| 1976 | Fr. Parke led the 146th anniversary celebration of Bethesda. |
| 1980 | Fr. Parke led the 150th anniversary celebration of Bethesda. |
| 1995 | Side entrance was added to the church with handicap access. |
| 2009 | Dedication service for the organ in the balcony of the church was held. The children of George and Laura Pierce donated funds for the building of this organ in memory of their parents. |
| 2012 | The Reverend Canon Thomas T. Parke died on March 5, 2012. |
| 2012 | The Very Reverend Marshall J. Vang, Dean of the Cathedral of All Saints in Albany, became interim rector of Bethesda. |
| 2020 | The Reverend Charles Wallace became Priest-in-Charge of Bethesda. |
*The term rector is used in a general sense for all the clergy listed in this timeline although some—especially those who served for a short period of time—may have been deacons rather than priests.